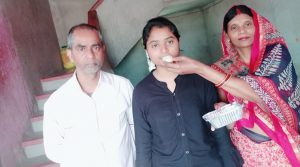 Like most art students, 18-year-old Sakshy Kumari, who passed the Bihar School Examination Board (BSEB) grade 12 exam, plans to prepare for the civil service exam. However, this was not her first choice. She wanted to start the flow of science after grade 10, but the lack of facilities in her West Champaran village forced her to study humanities.
The result of the mid-term exam for the Bihar Board was announced on March 24, and over 6.28 Lakh students emerged from the art stream.
"In my school, Mahant Ramrup Goswami College, there are also flows of science and commerce, but there is no real infrastructure with poor laboratory facilities," said the topper. Sakshy scored 474 out of 500 points with 96 points in history, 93 in geography, 47 in NRB (None Rashtra Bhasha), 96 in economics and 47 in English and 96 in LL (English).