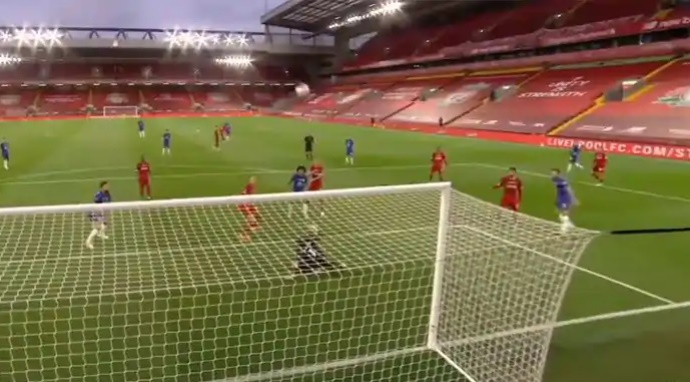 Before the Premier League trophy, Liverpool beat Chelsea in their last home game in Anfield on Wednesday in an eight-goal thriller. Jürgen Klopp's men with their 5: 3 victory ended unbeaten at home for a third season in a row. Read Also – Man United v West Ham: Greenwood secures the crucial point as the hosts move closer to the Champions League spot
Naby Keita, Trent Alexander-Arnold and Georginio Wijnaldum had given the champions a 3-0 lead in the first half. However, Olivier Giroud scored again to score a goal for Chelsea in stoppage time before the break.
After the resumption, the Reds took further control of the competition. Roberto Firminho scored his first league goal at Anfield this season and scored 4-1. Christian Pulisic, who was in some form for the blues, started on the bench and manager Frank Lampard put him in three goals behind the guests the second half before and the American made an immediate impression.
In the 61st minute, he prepared Tammy Abraham for 4-2 before scoring his own goal to reduce the lead to a single goal.
With a resurgent Chelsea chasing the equalizer, Alex Oxlade-Chamberlain killed the game six minutes before Liverpool's full-time end to a memorable night.
It was a perfect setup for Liverpool, who then won the trophy, the first of the Premier League era.
"We will not stop. We will not stop. We have challenges, internal challenges. We can of course improve," said Klopp to Sky Sports. "We have the players. Naby (Keita) played pretty much only the last part of the season "We pretty much have a chance to take another step. But we have to because the others won't sleep. No guarantee of anything else than we will try."
For Chelsea, the defeat meant they slipped to fourth place and had to win their last league game against soaring wolves to secure a place in the Champions League.
Liverpool, on the other hand, travels to Newcastle United and wants to finish in style.
The win also meant that Liverpool ended their home games by pocketing 55 of the 57 points available. Along with Manchester United and Manchester City, this is the most common in any Premier League campaign.