Ram Navmi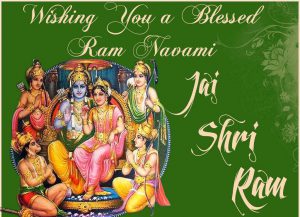 Ram Navami or Sri Ram Navami is celebrated as the birthday of Lord Rama or Ramachandra, seventh incarnation (Avtar) of the Dashavatara  of Lord Vishnu. Lord Ram was born at noon (12pm) in Ayodhya in India as a son of the King Dasharath and Queen Kausalya.
The Rama Navami is a Hindu festival which falls in the Shukla Paksha on the Navami, the ninth day of Chaitra month of Hindu calendar usually in March or April. The day marks the end of the nine-day Chaitra-Navratri celebrations. In Ayodhya this festival is celebrated with great enthusiasm and zeal.
On this day, people worship the Sun in the early morning, organize Akhand Paath of the Ramacharitamanas and Ramayan in the temples or at home, listen to the legends of Lord Ram, carry out the chariot processions known as Rathayatras or Shobha Yatras of Rama, Sita, Lakshmana and Hanuman at several places in Ayodhya and other parts of Northern India. Thousands of people take a dip in the sacred river Sarayu near Ayodhya. Peoples observe fast, sing bhajans, kirtan, visit temples, and distribute prasad after the puja and aarti. At noon temples are echoed with Vedic chanting of Vedic mantras of Lord Ram.
?????? ???? ???? ???, ???? ???? ???? ???…
 ?? ???? ???!