The Great Pyramid of Giza, Egypt (honorary wonder)
The Great Pyramid was built by the Egyptian pharaoh Khufu (Cheops), a king of the fourth dynasty to serve as his tomb and was constructed in about 2560 B.C. over a 20-year period. The Great Pyramid is the largest of three Pyramids at Giza, outside modern Cairo. The pyramid was about 480 feet (145 meters) high when it was first built and now approximately 450 ft. The base has sides 755 ft long. It contains 2,300,000 blocks and the average weight of each is 2.5 tons.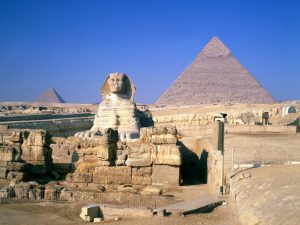 It is the oldest of the Seven Wonders of the Ancient World, and the only one to remain largely intact.It is thought to have been the tallest man-made structure of the planet for more than four millennium (3,800 years).
Great Pyramid has 3 chambers. The lowest chamber called Queen's Chamber is cut into the bedrock upon which the pyramid was built and was unfinished. The  King's Chamber are higher up within the pyramid structure. The Great Pyramid of Giza is one and only pyramid in Egypt which contain both ascending and descending passages. The  part of the Giza complex is a setting of buildings that have two mortuary temples  in honour of Khufu (one close to the pyramid and one near the Nile),it also have smaller pyramids for Khufu's wives, whichs is an even smaller "satellite" pyramid, a raised causeway connecting the two temples, and small mastaba tombs which surrounding the pyramid for nobles.